The University welcomed Fr. Dr. Fabio Attard SDB, General Councillor for Youth Ministry, Salesians of Don Bosco International Headquarters, Rome on Wednesday 4th March 2015.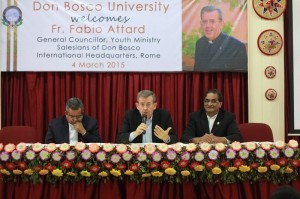 Fr. Fabio Attard was accompanied by the Chancellor, Fr. VM Thomas who introduced him to the Under Graduate (UG) students at the morning assembly and later to the Post Graduate students in the Conference Hall.
While addressing the UG students Fr Attard shared his mission experiences in the different parts of the world and Salesian missions in 132 countries.
"Education is the key to open today the door of tomorrow, the future is yours, if you allow it, it will flourish," he said highlighting the role of education in life.
Stressing the need of reaching out and working towards the betterment of not only ourselves but of the people around us, he said "Education should help us to reach out to others with empathy and stand in solidarity; open our hearts and reach out to the poor."
He also added, "Education should not be treated only as a means of intellectual growth and finding jobs, but as an effective tool for character formation."
He invited the students to work not only for their future but also for the future of others and the community they live in.
Father Fabio also presented his book titled "Salesian Youth Ministry in the Frame of Reference," to the University.