The University celebrated World Philosophy Day on 28 November with a two and half hour program. Some 40 faculty members participated.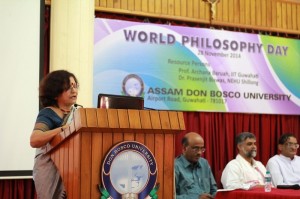 Celebrations consisted of two lectures by eminent philosophers from North Eastern Hill University Shillong and IIT Guwahati.
Prof Prasanjit Biswas of NEHU Philosophy Department spoke on "Reason, Normativity and the Philosophical responsibility: A renewed call to alterity."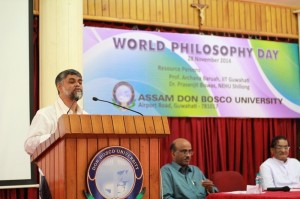 He stressed the need for 'critical thinking' to bring in positivity to what one thinks in his/her quest for meaning.
In the second lecture Prof Archana Barua spoke on "Quest for a place of one's own: Locating ethics in the age of globalization."
She addressed global ethics and its changing scenario with reference to environmental de-gression and the role played by ethics in a global setting.
"Philosophy is a discipline that encourages critical and independent thought and is capable of working towards a better understanding of the world and promoting tolerance and peace," said Dr Dominic Meyieho chief organizer of the event.
By celebrating World Philosophy Day each year since 2005, on the third Thursday of November, UNESCO underlines the enduring value of philosophy for the development of human thought, for each culture and for each individual.