With an aim to create awareness about mental health issues both within and outside the University campus, the Department of Psychology (Psychological Counselling) organized various activities to mark the World Mental Health Week. This year's theme was 'Dignity in Mental Health'.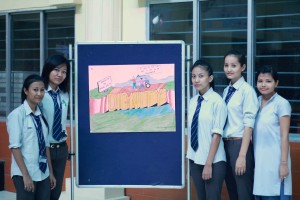 The Department of Psychology displayed creative posters at the Atrium, which had a touch of humour and at the same time conveyed the importance of mental health and possible risks/ precautions. Two organizations working for people with mental disabilities i.e. Sishu Sarothi and the Missionaries of Charity were invited to display and sell various handicrafts made by their inmates as part of their rehabilitation.
Commending the success of the event, Asst. Professor Sabiha from the Department of Psychology said, "We are glad that every single item displayed for sale was sold and that the University students have become more aware of issues related to Mental Health. I hope that our students will become the ambassadors of change to ensure that people with mental health problems can live with dignity in our society".
The week long programme concluded with the students of Psychological Counselling animating the Morning Assembly on 10th October, and the screening of a documentary film and an awareness drive among the high school students of the neighborhood.