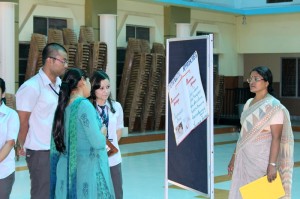 The Department of MSc Psychology took an initiative in observing the World Mental Health on 10th October. The theme for this year's celebration is: LIVING WITH SCHIZOPHRENIA  (Schizophrenia is a mental disorder often characterized by abnormal social behavior and failure to recognize what is real).
The day's activities included video presentation, songs, talks on schizophrenia and an interactive exhibition outlining the symptoms, types, diagnosis, prognosis and rehabilitation of the people suffering with the disease. Most of the participants were completely unaware of the social and personal implications of this disease. They were thankful for the information shared and imbibed the important message- "There is no health without mental health".
A voluntary donation drive was held and the university students raised 6432 rupees which was donated for the care of the inmates of the Missionaries of Charity Home, Lankeshwar.
Every year 10th of October is observed as world mental health day. Mental health is a level of psychological wellbeing or an absence for mental illness. In 2008 WHO launched the Mental Health Global Action Programme that focuses on advocacy, initiates and gives guidance for improving member states' systems of health care delivery for people with mental, neurological and substance abuse disorder.
If we are mentally healthy, we can –
• Make the most use of our potentials
• Cope with life
• Play a full part in our family, workplace, community and among friends.
Schizophrenia affects around 26 million people across the world and is the focus of World Mental Health Day this year. Despite being a treatable disorder, more than 50% of people with schizophrenia cannot access adequate treatment and 90% with untreated schizophrenia live in the developing world. Lack of awareness of the illness and symptoms is a prevalent feature of patients with schizophrenia with up to 80% of sufferers failing to acknowledge that they have a mental illness.