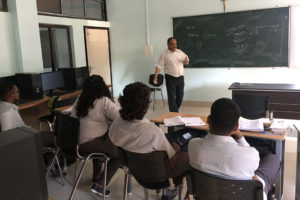 The Department of Mass Communication, Assam Don Bosco University, Tapesia held a two day workshop on 'The Concept of Development' on 25 – 26 July, 2017 for the 3rd Semester students of M.A. Mass Communication.
The purpose of the workshop was to enlighten the students with the concept of communication for development and how to use it in an effective way to serve the society, especially 'the weak and the marginalised.'
The resource person, Dr. Lukose PJ, HoD, Department of Social Work, Assam Don Bosco University dealt with the concept of development drawing examples from his life experiences. According to him, the word development is 'an actualisation of one's inner potentialities' which starts with cultural changes.
The programme included power point presentations, anecdotes, songs, interactions, group discussion and presentation. Avishek Chakraborty, one of the participants said, "It was a fruitful and enriching workshop and easy to understand as the resource person provided us with examples from his real life experiences".