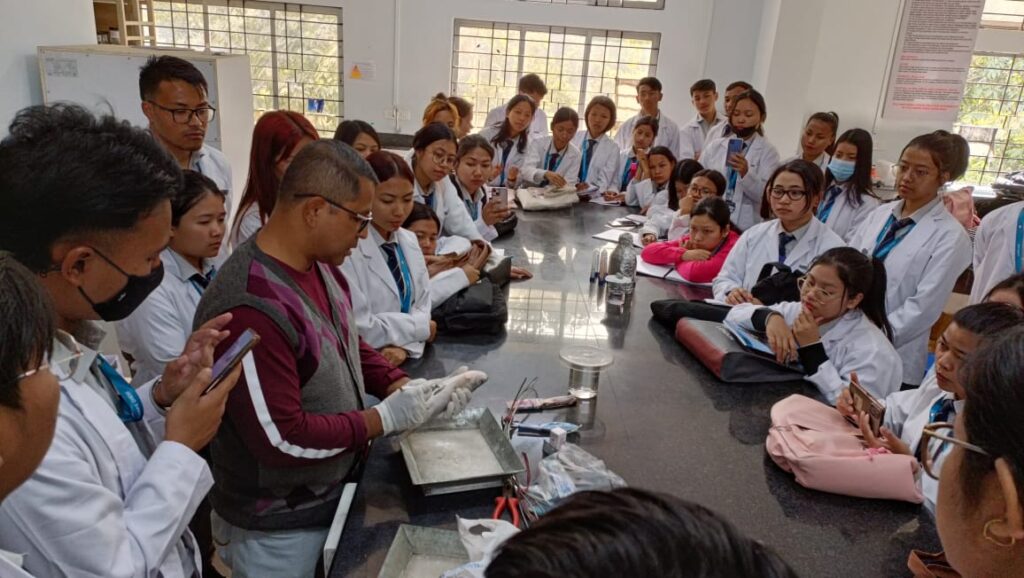 A workshop on Taxidermy was conducted by the Department of Zoology on 14th February 2023 with Prof. Saibal Sengupta, Professor, Dept. of Zoology, Assam Don Bosco University and Dr Jayanta Gogoi, Assistant Professor, Department of Zoology, Arya Vidyapeeth College, Guwahati as the resource persons.
The first session commenced with an insightful talk by Prof. Saibal Sengupta on the "Concept of Taxonomy" that familiarised the participants with some of the common terminologies such as classification, systematics and nomenclature, its uses and importance and the usage of the term – Taxonomy and Systematics with regard to biological classification.
The talk was followed by a presentation on "Importance and Procedure of Taxidermy" by Dr Jayanta Gogoi who explained the journey of specimen preservation and the art of preserving an animal's body through mounting or stuffing. After an hour lunch break, the second session started at 1pm which was mainly practical and training by Dr. Jayanta Gogoi. In the training, Dr. Gogoi demonstrated the preservation process and the scientific practice of mounting and stuffing a specimen. The hands-on Taxidermy of Fish was carried out on a Carp species at Block 4 Lab. The workshop was attended by students from master of science with active participation and interaction. The skill required in this preservation process was rather an artistry than a mere preservation process.
The students actively engaged in both the first and the second session and it was a great learning experience.