A group of 32 scholars from north-eastern India are participating in a three-day workshop on "Open Source Software for Social Science Research" at Assam Don Bosco University Guwahati.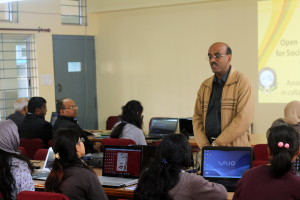 The program being held at ADBU's Azara campus is jointly organised by the Indian Council of Social Science Research (ICSSR) and NERC Shillong from 6-8 February 2014.
Opening the workshop, ADBU Vice Chancellor Dr Stephen Mavely encouraged scholars to learn and use Open Source Software for their research and scientific writing as a protest against the "ruthless and heartless [software] multinationals," who charge enormous price for academic software.
"You are the missionaries of the message that we want to send across, that we would be champions of OSS where ever we are," said Dr. Mavely who has more than 620 computers at Azara campus.
The workshop content includes introduction to the foundations and techniques of carrying out research, and prepares students to use OSS in conducting social science research.
The workshop also provides scholars with necessary tools, skills and instructions to use OSS. Participants are also taught the basic statistical procedures for analysing data.
The workshop will consist of lectures, presentations and hands on sessions on Word Processing, Spread Sheet, Presentation Skills, Preparation of Technical Documents, Data Summarization, Query and Analysis, Statistical Analysis, Online Survey, Audio Editing for SS Research, and Video editing for SS Research.
Besides a few scholars from Kolkata and Darjeeling, the majority of the participants are form north-eastern states.
The workshop, first of its kind conducted in the region for Social Science Research, is coordinated by Dr. Paul Pudussery and Dr. Dominic Meyieho along with faculty members.