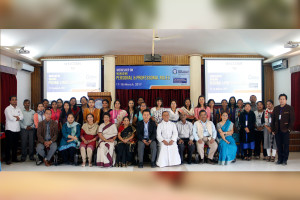 A two-day workshop on Managing Personal and Professional Roles for Women in Higher Education Systems, collaboratively organised by the Gender Amity Committee of Assam Don Bosco University, and Association of Commonwealth Universities (ACU), UK, concluded on the 18th of March 2017.
The workshop addressed key thematic areas intersecting the personal and professional roles of women, such as: social system and social roles, work systems and professional roles, integration of social and professional systems and roles, self, role and identity, and e)women and men interface. Thirty participants from different institutions of higher education participated in the workshop.
Renowned educationist Prof. Kranti Jejurkar, Ex-VC, Mumbai University, and Ms. Shanthalembi Lisham, Member, GAC, ADBU facilitated the sessions listed above, developed with reference to the Workshop Manual— Management Development for Women in Higher Education (4-6), published by the Commonwealth Secretariat and ACU.
The programme was attended by a panel of eminent personalities engaged in the fields of gender justice, education and development work. Mr. John Borgoyary, Regional Head, United Nations Development Programme, Northeast India, attended the programme as the Chief Guest. "Mainstreaming gender in all spheres of development is the key to reach the Fifth Goal of the United Nations' 2030 Agenda for Sustainable Development. In order to achieve gender equality and empowerment of all women and girls it is necessary to change the stereotypical notions surrounding the personal and professional roles of men and women in our society," said Mr. Borgoyary in his keynote address.
"Ideological commitment to gender equality by both men and women of our society will foster a more just society for women," addressed Prof. Meeta Deka, Head, Department of History, Gauhati University, who was in attendance as the Guest-of-honour on the occasion.
The facilitators and the participants navigated through their personal and professional experiences in their social as well as organisational settings, covering and engaging with all the key areas— knowledge, attitudes and skills— required for moving along a journey of successful and dignified personal as well as professional lives in future. Amazing stories of courage, strength and resilience shared by the participants were skilfully taken up, analysed and presented by Prof. Jejurkar, the resource person, as successful examples of how it is possible to confront, overcome and change demeaning personal and professional situations of women into that of success and justice.