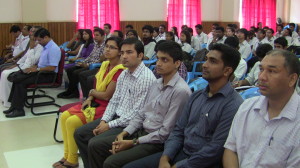 The Department of Computer Science & Engineering and Information Technology organized a one day workshop on Cloud Computing and IBM Bluemix on 25th September, 2014.
Last year, the University had signed MoU with IBM for Rational Software Engineering for Educational Development (SEED) programs which facilitates the Software Designing.
Mr. Mani Madhurkar, Technical Lead, IBM was the chief resource person of the workshop. Mr. Mani delivered talks on various topics like Cloud Computing, NoSQL, Big data and IBM Bluemix.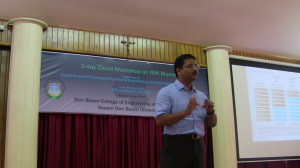 A total of 127 students from BTech CSE 5 & 7 semester, MCA 5 & 3 sem, M.Tech, Ph.D scholars and faculty members attended the workshop.
The workshop was inaugurated by Fr. Stephen Mavely (Vice Chancellor), Prof. Basil Koikara (Registrar), Prof. Manoranjan Kalita (Principal, School of Technology) and Dr. Y. Jayanta Singh (Head of Dept). Department extended special thanks Ms. Juhi Baruah, HR Director for her initiatives and support.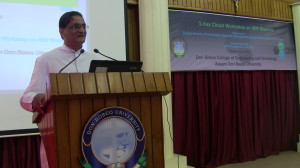 The Workshop was coordinated by Mr. Vijay Prasad and Mr. Th. Johnson, with support of all members of the department and participants found the Bluemix experience to be interesting and enriching for their academic development.