The Department of Psychology and Counselling organised a one day international workshop on 'Healing our Planet: Eco-sensitivity and Remediation' in collaboration with Sri Ramanuja Mission Trust on 24th April, 2016 (Sunday) in the Azara campus.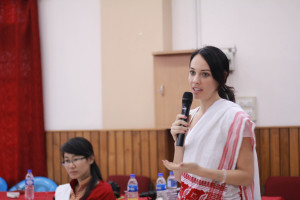 The workshop is a part of the Grand Global Peace Meet – IV, three phases of which have been concluded in various parts of India.
Eminent speakers from India, USA , Cambodia presided the  workshop which started at 10: 00 a.m and was concluded at 5 p.m with a peace march in the atrium of the college which symbolically represented  a prayer for protecting mother earth.
Addressing the participants, Professor S.A.R.P.V Chaturvedi, Founder and Managing Trustee of SRMT, Chennai said, "Over exploitation of natural resources by mankind is creating changes in climate, vegetation worldwide" and "the department of Psychology and Counselling needs to provide "Eco-counselling" to the people as the emphasis on counselling revolves around 3Cs – Comforting, Convincing and Converting the person " He also suggested that workshops should be organized to cultivate eco-consciousness among the general public".
Ms Cynthia Carvajal, Founder, Ocean Lifeline, Texas, USA spoke about how our actions directly or indirectly affect the ocean life. Speaking on coral crisis she said, "75% of the world's coral reefs are in danger. The coral reefs are threatened by local and global impacts including climate change, dynamite fishing, pollution and overfishing. Regardless of where we live our actions impact the oceans."
Ms Sotheavy Srey, Director, The Alliance for Conflict Transformation spoke on how the youth has a pivotal role to play in creating an eco-sensitive world around us which will contribute in protecting our planet from destruction.
Other speakers include Mr. Salili Gewali, writer of the book "Great Minds in India", Author, Researcher, Journalist and Publisher, Shillong and Mr. Ram Prasad Upadhyaya, Teacher and Editor, Shillong.
A total of 100 participants, from graduates to research scholars in various disciplines like Nursing, Sociology, Psychology and Education took part in the workshop. Participants of the workshop represented various reputed institutes of Guwahati such as Gauhati University, Cotton College State University, Assam State University (Silchar), Dispur Nursing College, Karmashree Hiteshwar Saikia College, Pandu College, Nonoi College (Nagaon), Tolaram Bafna Hospital and Assam Don Bosco University.
The workshop gave a lot of emphasis on interaction with participants and had a very engaging student parliament session where student parliamentarians representing various institutes exchanged ideas and clarified doubts with regard to the issue of protecting mother Earth. The workshop was successfully concluded with the distribution of certificates to the participants.