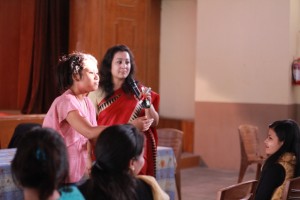 The department of Psychology and Counselling organized a two-day workshop on Personality Development with a special focus on 'Communication Skills', 8-9 December, 2015 at the School of Technology's Auditorium.
The resource person for the workshop, Ms Loya Agarwala, Counsellor and Total Personality Development Consultant is a well-known professional trainer in this field, and also working at the University as a Visiting Counsellor.
Addressing the participants at the inaugural function of the Workshop, Ms Loya said, "Effective Communication skills play a crucial role in honing one's personality. People with great communication skills tend to have a better and impressive personality than those who have problems in communicating as interacting with others is not a challenge for them. Individuals with effective communication skills can easily converse with other people around be it their fellow workers, peers, family and so on. Effective communication skills strengthen the bond among individuals".
During the workshop, participants were taken through a series of communication practices, games, role plays etc. According to Madonna, one of the participants from Tinsukia, " The workshop was a great learning experience. It made me more confident and also made me realize that I have a lot to do in improving my communication skills". For another participant from Golaghat, Ishani Hazarika, the workshop was, "an eye opener; that taught me crucial public speaking skills and the importance of listening to others".