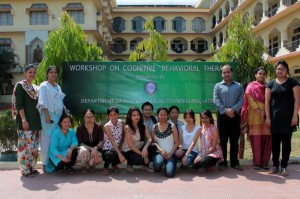 The Department of Psychology and Counselling, ADBU, organized a workshop on 'Cognitive-Behavioural Therapy (CBT) on 22-23 April, 2014. The workshop, which focussed on the wider applicability of CBT as a therapeutic technique was attended by the second and fourth semester students of the department.
The resource person of this two day workshop was Mr Joydeep Das, a Consultant Clinical Psychologist at MIND (Mental and Intellectual Needs Development) India, Guwahati. He is also working as a guest faculty in Department of Psychology, Gauhati University.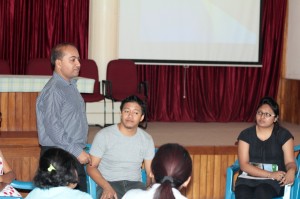 Mr Das completed his M.Phil. in Clinical Psychology from Central Institute of Psychiatry, Ranchi and also completed his Postgraduate Certificate course in Psychological Counselling from Christian Counselling Centre, Vellore (Tamil Nadu).
The workshop aimed to upgrade and refine the theoretical knowledge acquired in classroom and textbooks by the students in terms of CBT as a therapeutic technique. The participants of the workshop were given a practical exposure of CBT as a counselling technique with the help of demonstration of therapy sessions under the supervision of Mr Das. The workshop enabled the students to blend theoretical knowledge with practical learning experience acquired during the two day workshop.
Students participated with a lot of enthusiasm and expressed hopes of attending similar workshops in future in order to refine their therapeutic skills. The skills which were acquired during this workshop can be used by the participants in professional life and personal life as well, in order to enhance personal growth and develop a positive attitude towards life.
The topics which were covered during the workshop are:
The fundamentals of practising CBT (the CBT model and how to explain it to clients)
CBT assessment and formulation
Cognitive and behavioural interventions for mental disorders
Demonstration of group counsellling applying CBT
Relaxation exercises were demonstrated.
Note: The word "cognitive" or
"cognition" means "to know" or "to think". Cognitive Behaviour Therapy is a school of psychotherapy developed by Aaron T Beck and it's been proved effective in psychiatric illnesses worldwide through clinical trials. Cognitive therapy is viewed as psychological treatment of thoughts focusing on underlying schemas. It also aims at helping individuals to identify and monitor negative ways of thinking, then to alter this tendency and think in a more realistic manner. It is a therapy that is widely used by mental health practitioners.