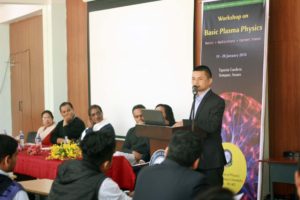 A two day workshop on 'Basic Plasma Physics' was organized by the Department of Physicson 19th and 20th January, 2018.
The workshop aimed at educating graduate students of North Eastern India about plasma physics and motivate them to take up plasma physics as a specialization in future. 33 graduate students from eleven institutions along with students of MSc Physics from the University participated in the workshop.
At the inaugural session, Fr. (Dr) Stephen Mavely, the Vice Chancellor welcomed the participants and invited them to explore the university and participate in the workshop with a zeal to acquire new knowledge. Prof. K. S. Goswami, Centre Director, Centre of Plasma Physics –Institute for Plasma Research (CPP-IPR) who was the chief guest at the inaugural session said "It is estimated that 99.999% of the visible universe is in the plasma state. The Suns mass makes up over 99.85% of the Solar System., and since it is nearly all in the plasma state, over 99.9% of the mass of the Solar System is in the plasma state. The visible universe is 99.999% plasma. Hence the need for serious study of plasma".
In the technical sessions of the first day i.e. 19th January 2018, Dr. N. Aomoa, ADBU, gave an introductory talk about plasma which was followed by a talk by Prof. K. S. Goswami about basic approaches to theoretical plasma research. In the afternoon session, the participants visited Centre of Plasma Physics –Institute for Plasma Research (CPP-IPR), Nazirakhat, Sonapur, and explored different laboratories and interacted with the scientist and students of the institute.
On the second day i.e. 20th January, 2018, the technical session started with a talk by Prof. H. Bailung, Institute for Advanced Studies in Science and Technology (IASST), Gauhati, on research in experimental plasma. He also gave a highlight of the research in plasma physics going on at IASST. After this, Dr. B. K. Das, Brahmaputra College, Gauhati gave a talk on Langmuir Probe followed by a lecture on Optical Emission Spectroscopy of Plasma by Dr. N. Aomoa, ADBU.
In the afternoon technical session, Dr. Bharat Kakati, Assam Science and Technology University, Gauhati, gave a presentation on the applications of plasma physics, with highlights of career prospects in taking up plasma physics in higher studies.
The workshop concluded with a valedictory function in which Rev. Fr. Bijju Michael, the Registrar interacted with the participants and also distributed the certificates.