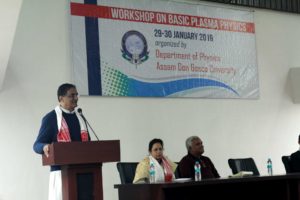 The Department of Physics organised a "Workshop on Basic Plasma Physics 2019" on 29-30th January, 2019 at the Auditorium of Academic Block –I, Tapesia Campus.
The workshop was organized mainly for the undergraduate students who may think of taking up plasma physics as their specialization in the Master Degree studies. They were introduced to the basics, applications, current trends in research and scope of plasma physics.
The workshop consisted of a series of talks by experts, viz., Dr. Mayur Kakati and Dr. B. J. Saikia from CPP-IPR and Dr. Ngangom Aomoa from Physics Department, ADBU. The participants also performed experiments with plasma system in the Plasma Laboratory of Physics Department. Furthermore, a visit to CPP-IPR was organised; the scientists and faculty members in CPP-IPR explained to the participants current research in plasma physics in their sophisticated laboratories. In the valedictory session, Prof. J. N. Vishwakarma, Director of Research, ADBU, distributed certificates to the participants.
Around 70 participants attended the workshop form different institutes of North-Eastern region. Dr. Ngangom Aomoa was the convener of the event and Mr. Parag Bhattacharyya and Mr. Dipjyoti Sarma were the co-conveners.