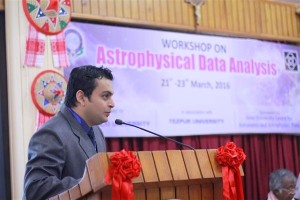 The Universitys Department of Physics in association with Tezpur University organized a 3-day Workshop on 'Astrophysical Data Analysis', 21-23 March 2016 at the Conference Hall, Azara Campus.
The workshop, organized for Post Graduate/Doctoral students and teachers in Physics was sponsored by Inter-University Centre for Astronomy and Astrophysics (IUCAA), Pune.
Delivering 'words of encouragement' at the inaugural session, the Vice Chancellor Fr.(Dr) Stephen Mavely reminisced about a drive out in the desert on a winter night and while looking into the sky through a telescope how he felt that he was 'looking into the heart of the Universe'. He also said that the new campus being developed at the Tapesia Gardens will also have an 'observatory' set up. Expressing his best wishes to the participants he said, "I hope that this workshop will open a whole lot of windows and possibilities for imagination".
The Guest of Honour and also the Workshop Resource person, Prof. Ranjeev Misra, Scientist G, IUCAA, Pune, in his introductory address explained the aim of the Workshop saying, "The workshop is not about teaching Astronomy or Astrophysics. It is not going to be a lesson on Data Analysis. I have spent 15 years in observing and analyzing these data and it is not something one can learn nor teach in 3 days. However, in this workshop we will explore the prospects of where you want to go in future as an academician, whether you would like to take up a study in Astronomy".
The 3-Day workshop saw lectures from Prof Dhruba Jyoti Saikia (Radio Astronomy: An Introduction), Prof Ranjeev Misra (Astrosat), Dr Sukanta Deb, Cotton College State University (CCD Photometry of variable stars), Dr Rupjyoti Gogoi, Tezpur University (Introduction to Infrared Astronomy), Dr Sonali Sachdeva, IUCAA (Introduction to galaxies and their evolution), Prof Gazi Ameen Ahmed Tezpur University (Image Processing).
Participants spent half of the workshop getting hands-on experience working on stellar data and galactic data at the Artificial Intelligence Laboratory with Prof. Ranjeev Misra and Dr. Sonali Sachdeva.