The Department of Electrical and Electronics Engineering (EEE) organized a two-day Workshop on Arduino and Raspberry Pi (WAR), on 20th -21st August 2016. A total of 48 participants attended the workshop.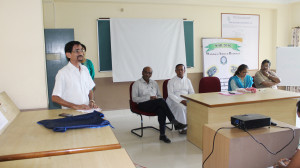 Prof. Pradip Kumar Goswami, HoD-Electrical Engineering Department, Girijananda Choudhury Institute of Management and Technology, Guwahati, who was the Chief Guest at the inaugural function introduced the participants to the concepts of Arduino and Raspberry Pi.
Addressing the participants, HoD of the Department of EEE, the Prof. Shakuntala said, "The objective of the workshop is to create a platform to explore beyond the academic syllabus with the use of Arduino and Raspberry Pi, which would help the students to try different types of engineering projects".
Arduino is an open-source micro-controller and software based platform and Arduino language is merely a set of C/C++ functions, while Raspberry Pi is a micro-computer, where different type projects can be implemented and it offers a choice of programming languages- Python, C, C++, Java, Scratch, and Ruby all of which come installed by default on the Raspberry Pi. These embedded systems require less operating time, compact in size and have high efficiency.
Mr. Jyoti Kumar Barman (Assistant Professor, Department of EEE) and Mr. Gitu Das (Assistant Professor, Department of EEE), were the resource persons of the workshop, who successfully conducted the workshop with interactive sessions.