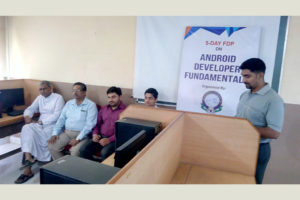 The University in collaboration with Google inaugurated a five-day training programme to be conducted from 17th May to 21st May 2017 on "Development of Android Apps".
The training will be imparted to the faculty members of the Department of Computer Science & Engineering and IT. The initiative has been taken in response to the proposal sent by Google to the University for academic alliance. The purpose of this alliance is to support the Android skilling programme launched by Google to train two million developers in India for its Android platform. The university will also offer a subject, Mobile App Development, to students with assistance from Google in providing the infrastructure for related lab work.
The resource person for this workshop is Mr. Rohit Kapoor, Google Certified Corporate Trainer who has more than eight years of training experience worldwide. He is one of the few (less than 10) corporate trainers in the Google Team. The training programme is expected to be enriching and fruitful in providing skills for cutting edge technologies related to mobile app development.