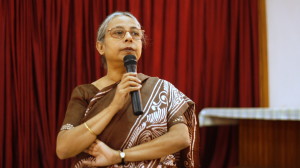 The ADBU Department of Psychological Counseling is organizing a two day workshop on "Rorschach Inkblot Test: A Projective Technique for Personality Assessment" from 9 to 10 September at its Azara campus.
The Director of ADBU Distance Education Dr Francis Fernandez welcomed the resource person on behalf of the Vice Chancellor who is out of station. The ADBU Registrar Dr Basil Koikara, and Head of Mass Communication Dept Fr C.M. Paul were present along with Head of Don Bosco Institute of Social Sciences Dr Riju Sharma and faculty memebers.
Prof Jayanti Basu from the department of Applied Psychology, University of Calcutta, is conducting the workshop for the students of MA in Psychological Counseling (MPC) first semester and Masters in Social Work students 3rd semester.
Ms. Sabiha Alam Choudhury of MPC is coordinating
the workshop.
The Rorschach test, also known as the Rorschach inkblot test, the Rorschach technique, or simply the inkblot test) is a psychological test in which subjects perceptions of inkblots are recorded and then analyzed using psychological interpretation, complex algorithms, or both.
Some psychologists use this test to examine a persons personality characteristics and emotional functioning. It has been employed to detect underlying thought disorder, especially in cases where patients are reluctant to describe their thinking processes openly. The test is named after its creator, Swiss psychologist Hermann Rorschach (1884-1922).