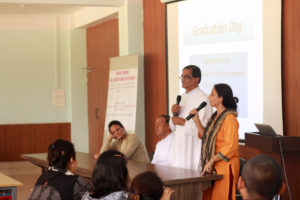 A series of workshop on 'Understanding Child Growth and Development' organized for Anganwadi Workers by Assam Don Bosco University in collaboration with University College Dublin Volunteers Overseas was concluded today with a short ceremony held at the Crystal Hall where participants were awarded certificates.
This workshop, unlike other workshops is a series of capacity building workshop for Anganwadi Workers and Helpers of Sonapur, Assam. Apart from 33 Anganwadi Workers and Helpers, the Child Development Project Officer of Dimoria Block and 3 Anganwadi Supervisors attended these workshops.
The workshop, which began in the month of August ended on 5th November 2017 and covered various themes like: Education –importance – Child and Society, Physical Development, Emotional/Psychological Development, Social Development and Needs, Special Needs – Focus on Special Education.
Addressing the participants, the Vice Chancellor, Fr (Dr.) Stephen Mavely said, "It has been a dream of the University to be a part of the developmental process of the surrounding villages. This is just the beginning. As we (the University) grow, we want you to grow and develop. Please feel free to come in to the Campus any time and make use of the facilities we have here to learn new things and new skills".