A professor from the Salesian University Rome made his first visit to ADBU Azara Campus, Thursday 8th August.
Associate professor of the Faculty of Social Communications Prof. (Fr.) Peter Gonsalves was on a visit to India and touring the northeast.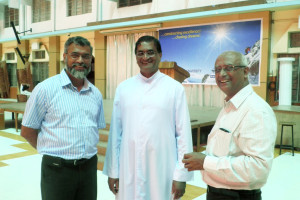 Author of several books in Communications Research, Fr Gonsalves was on a tour of nine cities in northeast promoting his pet subject "The Don Bosco Way" – the Don Bosco system of education which is made mandatory in all Don Bosco educational institutions.
The entire course is available on-line and every new teacher is supposed to clear the program including the tests administered on-line to complete their induction within the first six months of their appointment.
Besides taking a tour of the DBCET facilities, Dr Gonsalves
spent time to listen to two of the four doctoral proposals being presented.