PANJIM, 4th Nov- – The Indian chapter of IUS international – Istituzioni Universitarie Salesiane (Salesian University Institutions) will meet on 5th & 6th November 2013 at Don Bosco Panjim, in which delegates from 12 provinces in South Asia will draw up their vision for Don Bosco India – Higher Education Network.
The IUS has 47 member Institutions in India.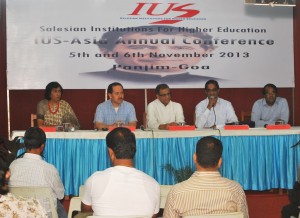 The conference has been convened by IUS Asia Coordinator Fr. (Dr) Stephen Mavely SDB, Vice Chancellor, Assam Don Bosco University, with the help of local host Fr. Wilfred Fernandes.
ADBU Director of Communications Sr Shiji James MSMHC is participating at the meet.
Br. Mario Olmos, the IUS General Coordinator from Don Bosco Head Quarters in Rome will address the gathering and attend the planning sessions.
Addressing media persons at Press Conference in Panjim today Dr Mavely said, "'Don Bosco India – Higher Education Network' will focus on vision statement for Higher Education and draw up mega projects to mark Don Bosco's birth bi-centenary celebrations in 2015 including starting four more colleges in Assam, and one Engineering College in New Delhi.
During the two day meeting, delegates will cover the current higher education scenario in the 12 Salesian Provinces in South Asia and draw up their vision for Don Bosco India – Higher Education Network as well as possible tie-ups between Don Bosco Higher Education institutes in India.
Other issues scheduled for study are: research in Don Bosco institutions, involvement with Don Bosco formation houses, drawing up a master plan for qualification of Salesian personnel maximising the advantage of Don Bosco University Guwahati, discuss organizational matters, and elect a new Executive Body.
Established in 1997, IUS has worldwide membership of 15 Universities and over 100 colleges and institutions of higher education.