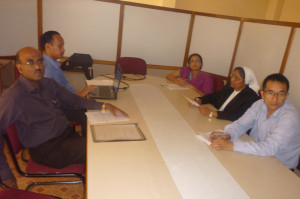 A four member University panel of professors conducted the first ever upgradation meet for a Junior Research Fellow of the first batch of  PhD scholars (2011) to become Senior Research Fellow, Saturday 15th November 2014.
The panel members included; Registrar Dr Basil Koikara, Director of the School of Social Sciences Dr Riju Sharma, and professors Dr Molly and Dr Dominic.
Mr Daino Basumatary, currently Research Assistant at National Institute of Public Cooperation and Child Development made a progress report presentation of his research project entitled: Psychological Impact of Conflict on Youth in Assam (with special reference to Kokrajhar and Udalguri districts, BTAD).
Dr Jerry Thomas of Jorhat is Basumatary's Research Supervisor.
Mr Basumatary became a JRF while doing M Phil at Pondicherry University and was recipient of Rajiv Gandhi Fellowship. Currently a research scholar at the University, Mr Basumatary is clearing the requirement for up gradation as SRF.
Mr Basumatary has presented five scholarly papers at 4 international and one national seminars. He has also published six scholarly articles related to the subject of his study in six reputed journals.