The University crossed a major landmark when two research scholars, belonging to the batch of 2012, appeared for their Viva Voce examinations on 23rd and 24th April.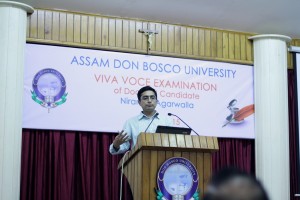 Niranjan Agarwalla of the University's School of Management defended his thesis on "Customer Satisfaction in the Telecom Sector in India – A Study on Assam and North East Circle," on the 23rd April, thus also procuring the distinction of being the first PhD scholar of the University. The thesis was guided by Dr. P.K. Jain of the Dept. of Business Administration, Gauhati University.
Divine Word Society Father Jose K. Jacob of the School of Northeast India Studies defended his thesis "An Anthropological Study of Religion Among the Rangdani Rabha of Assam," on 24th April, becoming the 2nd PhD scholar. His thesis was supervised by Dr. Gautam Kumar Bera, Anthropological Survey of India, Northeastern Regional Circle, Shillong. Both the research scholars were among the first batch of 20 doctoral students registered in 2012.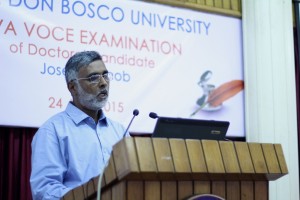 Professor P.K. Haldar of the Dept. of Commerce, Tripura University and Prof J.P. Sharma, Head of Dept. of Economics, Adm & Financial  Management, University of Rajasthan, Jaipur were the examiners of the thesis of Niranjan Agarwalla. The examiners for second doctoral defense were the HoD, Department of Sociology, Tezpur University, Dr Kedilezo Kokhi, and the former professor of anthropology Visva Bharati University, Shantiniketan, Prof. Onkar Prasad.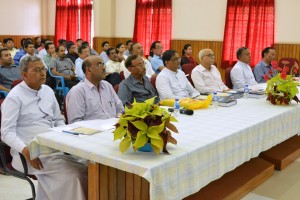 Another five PhD candidates are expected to defend their thesis in the coming months and thus receive the doctoral degree certificate in the 4th Convocation of ADBU scheduled for September 2015.
Some 100 scholars, including the fifth batch of PhD students doing their week-long course work, university officials and faculty members attended both the events held at the university's Azara campus.