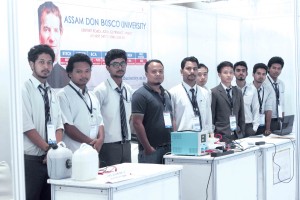 Nine students from Electrical & Electronics Engineering Department of the School of Technology, participated in "Konnect North East & Beyond" organized by the Indian Electrical and Electronics Manufacturers Association (IEEMA).
The fifth IEEMA Eastern Regional Summit was held at Maniram Dewan Trade Centre, Guwahati, Assam, 23rd-24th April, 2015.
Three different projects exhibited under the guidance of Mr. Jesif Ahmed, Assistant Professor, EEE department included "PC cum Android Mobile Based Electrical Appliances Control – Both Wired and Wireless" by Abhijit Talukdar, Kailash Laishram, Kime Tayu (EEE 6th Semester); "Centralized Monitoring And Controlling Of Electrical Loads in Residential Or Industrial Campus" by Bhaskar J. Das, Rintu Tamuli, Biraj Mohan (EEE 8th Semester) and "Electricity Generation from Garbage Using Microbial Fuel Cell" by Himanshu Buragohain, Mridul Haloi and Nilutpal Muchahary (EEE 8th Semester).
"The project prototypes were highly appreciated by the visitors and leading industry experts who participated in the event," says faculty member Mr. Ahmed who accompanied the students.
In another event, the University's M.Tech and EEE students attended a 2-day workshop entitled emPOWERing Make in India with the Utilities of NE States and IEEMA top officials.
The 5th Konnect summit brought together all stakeholders from the electrical-power industry in North-East India. About 80 exhibitors showcased technologies and product solutions in the low, medium and high voltage segment.
Konnect was an attempt to facilitate capacity building in the North-East power sector by connecting with organizations in power generation, transmission, and distribution equipment.