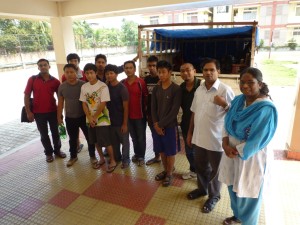 Responding to last week's flood that ravaged several villages in Assam, students and faculty have formed three teams to help with relief and rehabilitation. Under the leadership of MSW Department Dr Riju Sharma, two teams swung into action to mobilize relief and rehabilitation materials from Shillong and Guwahati, while a third team left the University for Hahim today.
The team who left for Hahim comprises 10 members (all male) to bring relief and help with the rehabilitation of the people of Garo village at Hahim, in the Boko Circle, of rural Kamrup District, around 65 km away from the University. Mr Victor Nazary, a teaching faculty in the Department of Social Work is the team leader.
Twelve houses have been wiped out by flood and scores of houses, crops and livestock have been affected and damaged.