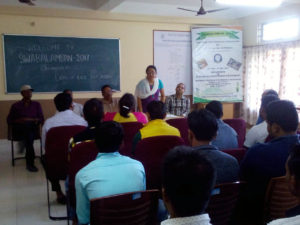 A free training programme on Electrical House Wiring for the educated unemployed youth was organised by the Department of Electrical and Electronics Engineering at Azara campus, from 27th November to 2nd December, 2017.
Fourteen participants from Azara, Jalukbari, Sonapur, Kamalpur, Baihata Chariali, Bongara and Mirza, having qualifications ranging from Grade 9 to College Degree were trained with necessary technical skills related to electrical house wiring with an aim of help them become self-employed. The free training programme, organized under the banner of the Universitys social commitment programme – Swabalamban, was sponsored by a group of ex-AECians coming together to contribute in the name of Debabrata Barman Memorial Fund.
The resource persons of the programme were veteran electrical engineering trainer Mr. Arun Kumar Senapoty, Senior Assistant Professor of the department Mr. Biramjit Goswami, along with Mr. Pankaj Roy and Mr. Sushil Kumar Minj.
Speaking on the inauguration of the programme, the director of the School of Technology, Prof. Manoranjan Kalita said that the objective of the Swabalamban programme is to empower the youth of the neighbouring youths with the technical skills, by sharing the available resources of the university, and thereby making them self employed. He also mentioned about the unique commitment the university has towards the development of the society, by imparting free education as well as skill development training to the poor and the needy. The University, since its inception has been providing free education as well as skill development trainings to hundreds of youth of its neighbourhood.
In the second phase of Swabalamban-2017, the departments of Electronics & Communication Engineering, Computer Science & Engineering & Information Technology, Mechanical Engineering and Social Work of Assam Don Bosco University are going to organize free training program on Design of Solar Powered Chargeable LED Lamps, DTP & PC Maintenance and Welding and Fitting & Blacksmithy for Mechanical Fabrication, starting from 5th December 2017.
-as reported by Jesif Ahmed, Asst. Professor, Dept of Electrical and Electronics Engineering