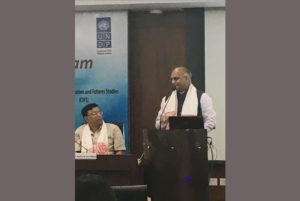 Two teams from the University at a statewide competition 'Ideathon: Youth Innovations for a Brighter Assam' held on 2-3 November 2017 were declared 'winners' among top 30 teams selected to participate in the grand finale. The two day event was organized by the Centre for Sustainable Development Goals (CSDGs) in collaboration with United Nations Development Programme (UNDP), Centre for Innovation and Futures Studies (CIFS) and Transformation and Development Department, providing a platform to all young students of Assam from various institutions to develop solutions for few of the biggest challenges in Assam.
After a rigorous selection process from an overwhelming number of entries from various colleges and universities of Assam, the top 30 teams were selected to participate in the grand finale. Out of the four teams from Assam Don Bosco University that have joined for the competition, all the teams made it to the grand finale for developing scalable models and prototype for any of the critical problem statements provided by the Ideathon team.
The winning teams were mentored by Ms. Nupur Choudhury and Ms. Gypsy Nandi and have been assured to be provided with the seed fund of Rs. 1.5 lakh for further developing their ideas. The winning teams are now fully geared up to demonstrate the practical application of the prototype developed in the competition to be applied in the selected areas of Assam.