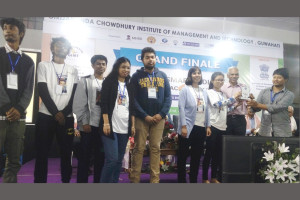 The University's team called 'Matrix' was placed at 4th position in an All India competition – Smart India Hackathon 2017 held on 1-2 April 2017.
The Hackathon, a 36 hours non-stop coding competition was organized by the All India Council of Technical Education (AICTE). Three teams from the University participated in this competition which involved finding digital solutions to several problem statements under the Ministry of Department of North Eastern Region (DoNER).
Out of 31 teams selected from several colleges all over India for the grand finale, two teams of Don Bosco University made it to the top eight. At the end of the competition 4 teams were selected as winners and the University's team 'Matrix' was as one of the winners and bagged cash prize and certificates.
The team led by Abhijit Matak had Siva Agarwal, Dipandita Saikia, Noel Rittick Bar, Khagen Borah, Raj Kr Bhakat as its members and Ms Bobby Sarma and Ms Gypsy Nandi as its mentors.
'Matrix' was the only winning team from north-eastern region in this competition and the problem statement was "Explaining the famous products of North East India" and it is expected to deliver the finish product soon to the concerned ministry.