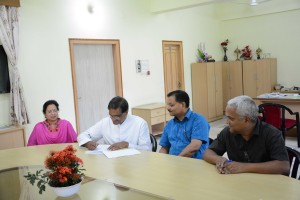 The University has signed an MoU with Centre of Plasma Physics – Institute for Plasma Research (CPP-IPR), Nazirakhat, Sonapur on 3 May 2016.
CPP-IPR is a research center of Institute for Plasma Research, Gandhinagar, Gujarat, which is an autonomous body under the Department of Atomic Energy (DAE), Government of India. The center was initially formed by a group of Scientists in 1991 under the Department of Science and Technology, Government of Assam. However, in 1999, it was taken over by DAE, Govt. of India.
Both the Institutions agreed to collaborate in scientific research, lend hands in setting up of laboratories, mechanical/electronics workshops and sharing of infrastructure. The immediate areas that open up for collaboration are scientific research in nano-materials, thermal engineering, numerical simulation etc.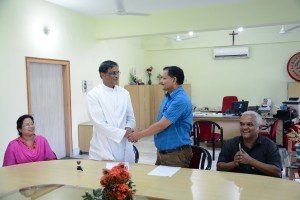 In addition, the University students of science and technology will also be able to do their project works with CPP-IPR facilities under the guidance of CPP-IPR faculty.
The MoU was signed by Prof. D. Bora, Director, Institute of Plasma Research, Gandhinagar and Fr. (Dr.) Stephen Mavely, Vice Chancellor, Assam Don Bosco University, with two witnesses from both the institutions – Prof. K.S. Goswami, Center Director and Associate Professor Mayur Kakati from the CPP-IPR, Prof. Sunandan Baruah, HoD, Department of Electronics and Dr. Monmayuri Barua, HoD, Department of Basic Sciences, ADBU.