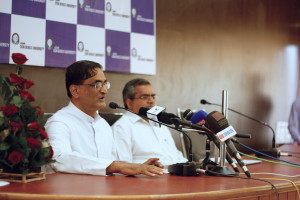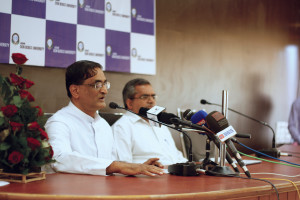 At a press meet held today in Guwahati on the occasion of the annual convocation of Assam Don Bosco University (ADBU), both the Chancellor and Vice Chancellor pledged support with several educational scholarship schemes to benefit students from northeast India.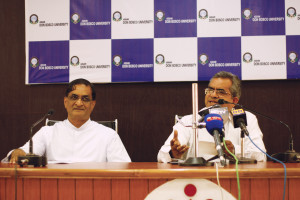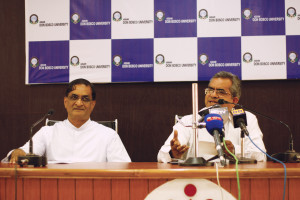 The Chancellor Fr VM Thomas stated that "Don Bosco Society
is in northeast India for the last 90 years, and both the Vice-Chancellor and I have been serving northeast India last 50 years."
"We are not a fly by night company, but we are here to stay" the Chancellor and President of Don Bosco Society Guwahati told 48 press people gathered at DB headquarters in Pan Bazaar.
"Setting up Don Bosco University has been an ambitious project in the able hands of Vice Chancellor Dr Stephen Mavely who was 15 years principal of St Anthony's College Shillong," said the Chancellor.
Giving recently published statistics of some 50,000 northeast India students leaving the region to other parts of India for higher studies, Fr Thomas termed it as "huge brain drain, as well as financial loss for the region."
"We want to arrest this migration, loss of brain and money by setting up the university in Guwahati, the gateway city of northeast."
Revealing the enticing offers for students from northeast joining the University, Vice-Chancellor Dr Stephen Mavely listed student benefit schemes already in place through DBU Global, ADBU's distance education programme which has some 5,000 people registered from all over the world.
Each year we plan to give 1,000 northeastern students full scholarship for our on-line Bachelor's degree courses in Business Administration and Computer Application. He also told of the full scholarship for single girl child in the family.
DBU Global's other partial scholarship schemes include: 1) Samarthan – Defence – for Serving / Retired members of the Defence Services of India as well as their spouse and dependent children are entitled to a Scholarship amounting to 25% of the Tuition/Academic Fees. 2) The Avalanab – Disability – People with 40% or more Disability, with a Certificate of the same, are entitled to a Scholarship amounting to 25% of the Tuition/Academic Fees.
3) Saathi – Candidates working in the Non Profit Sector, either Social (NGO) or Religious Organizations, are entitled to a Scholarship amounting to 40% of the Tuition/Academic Fees. 4) Sangee – Ex Don Bosco Alumni – Students who have
cleared either Class X or XII from any Don Bosco School in India, shall be are entitled to a Scholarship amounting to 25% of the Tuition/Academic Fees.
5) Sadhak – Performer – Students with 75%+ in Class XII, and 70% + in Graduation (All years Avg), shall be entitled to get 30% scholarship in PG Programs. 6) Protsahan – Students with 75%+ in Class X and Class XII, get 30% scholarship in UG Programs.
Another scheme to benefit economically backward but meritorious students is free education for 1,000 high school students from northeast India who will have a residential school in the permanent campus at Tapesia.
Apart from these schemes, the University assists students who need to take 'Education Loan' from the Banks through the University Development Office. The University has a tie-up with Punjab National Bank (PNB), North East Region, for this purpose. It also has a close collaboration with the State Bank of India (SBI), North Eastern Circle.
'Don Bosco University has set very high standards for itself in all facets of the University's functioning – personnel management, staff development, strategic planning, curriculum development, interface with industry, campus ministry, infrastructure development…', the Vice Chancellor told.