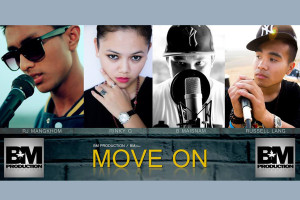 A third year Assam Don Bosco University (ADBU) B Tech (Computer Science and Engineering) student is spending her summer holidays recording songs in her home town Imphal in Manipur.  Besides writing lyrics for the song, Miss Rinky Gurumayum composes music, sings and acts for her music video.
"The most exciting thing about working with BM Production is that I have to write my own lyrics, I have to act in front of cameras for the music videos, plus I have to compose it. I have learnt so many things working with them," says Rinky.
"During my summer holidays, I record songs, write poems, stories and songs and in spare time do little bit of painting. I can't wait for my next holidays because that's the only time I can record songs," says Rinky taking a break from her video shoot.
Her first major music video production this summer is entitled 'Move On'.
https://soundcloud.com/bulu-maisnam/move-on-rj-mangkhom-russell-lang-b-maisnam-rinky-g
Taking a sip of soft drink from a 7up bottle Rinky says, "The song is about all the reality happening in the lifestyle of youths, and art lovers."
"Move On" features Imphal's popular rappers RJAY, B Maisnam, Russell Lang and herself Rinky G.
Her debut song conveys the fact that life is not simple; to get something one has to work hard for it no matter how many difficulties one must face.
Rinky explains, "no matter how much hater hates us, the main point of the song is never look down on yourself but MOVE ON with a smile on your face and aim high because sky is not the limit, the limit is yourself."
Her instant talent has bagged one more project with BM Film, the second music video entitled "Never Gone" the lyrics of which Rinky wrote together with BM Productions manager B Maisnam.
Both the music videos of 'MOVE ON' and 'NEVER GONE' will be released shortly.
Ecstatic about both songs, Rinky says, "I can't wait to share my new song 'Never Gone' with everyone."
"Relation with BM Production and me is like a family now; the bonding is really strong so their door is always open for me."
Recalling the early signs of her talent in music and singing Rinky tells, "Since my childhood I like singing a lot, but I never knew that I could sing. The song which inspired me to sing was Celine Dion's My heart Will Go On, after listening to her voice and the way she carries the music, it really touched my heart."