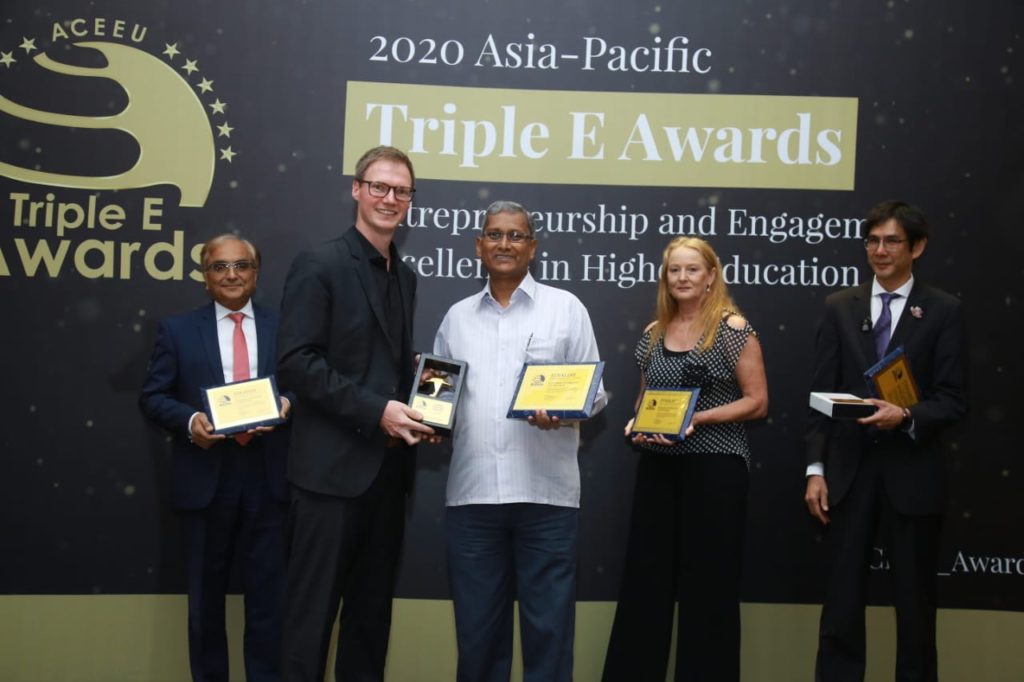 The University was conferred with "Engaged University of the Year 2020 Asia Pacific (Entrepreneurship and Engagement Excellence) Award" on January 10, 2020 by Accreditation Council for Entrepreneurial & Engaged Universities (ACEEU), Science Park, Netherlands.
The award recognizes the University's monumental work in community engagement and social service – bringing about changes in the lives of people around the University campus. Don Bosco University won the award against stiff competition from the final shortlisted institutions across the Asia-Pacific region including Swinburne University of Technology (Australia), Fuzhou University (China), Melbourne Polytechnic (Australia), Singapore University of Technology (Singapore), University of the Sunshine Coast (Australia) and Australian Catholic University (Australia).
Pro-Vice-Chancellor of Assam Don Bosco University, Fr (Dr) Joseph Nellanatt received the award, on behalf of the University, at a ceremony held at Taj Resort & Spa, Kochi, Kerala on January 10, 2020.
Commenting on the Award, the Vice-Chancellor, Fr (Dr) Stephen Mavely said, " It is a validation of the University's engagement in 'Service Learning' – a unique feature of Don Bosco University that integrates academic inputs, relevant community-centered activities followed and preceded by structured reflection in an intertwined partnership. It combines a learning process that results in academic, civic and personal development while, at the same time, tackling the challenges affecting the wider society".