Guwahati, October 9, 2013: The faculty of the Assam Don Bosco University (ADBU) bade farewell to the Controller of Examinations
Dr V.A. Cyriac with a special meeting and farewell lunch, 9th October at its Azara campus. Fr Cyriac joined the university two years ago after 25 year stint as principal of Don Bosco College Tura in the Garo Hills.
Provincial of Don Bosco Society Guwahati Fr V.M. Thomas has commissioned Dr Cyriac with a challenging mission to set up a new Don Bosco College in Bodoland at Bongaigaon.
Speaking at the farewell function, the ADBU Vice Chancellor Dr Stephen Mavely recalled, "My relationship with Fr Cyriac goes a long way – in fact 51 years to be precise, right from 1962 when as young kids we set out on a lifelong adventure to become priests. Ever since then our lives have crossed and re-crossed several times. We have studied together in our young days, we joined Don Bosco Society on the same day, we worked together briefly in St Anthony's College Shillong. But much of our working lives as priests were spent in different places and handling different responsibilities."
The VC also noted that "besides putting in place the examinations system at ADBU, Dr Cyriac helped set up the new School of Social Sciences."
Dr Cyriac is also instrumental in initiating "Communicative English" classes for the freshers – a new project in English language skills to be launched after the puja vacation on 24th October.
The VC thanked Fr Cyriac for his unstinted cooperation and hard work put in at ADBU as Controller of Examinations and added, "Knowing his capacity to pioneer new ventures and to build institutions, the Society has entrusted him with this task."
The Principal of Don Bosco College of Engineering and Technology Dr Manoranjan Kalita and Head of the School of Social Sciences Dr Riju Sharma jointly organized the farewell.
Besides the VC, the Registrar Dr Basil Koikara, Administrator Dr Peter Paul, School of Technology Principal Dr Manoranjan Kalita and School of Social Sciences Head Dr Riju Sharma expressed their gratitude for the various ways Fr Cyriac came to their help.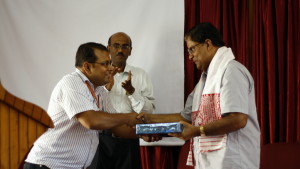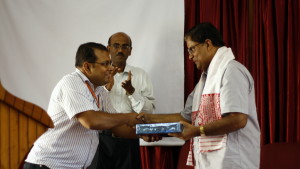 While thanking the faculty for their kind gesture of kindness in organizing
the farewell gathering and the many gifts presnetd, Fr Cyriac expressed his sincere gratitude and extended a warm invitation to Bongaigaon and promised his continued assistance to ADBU in whatever capacity.