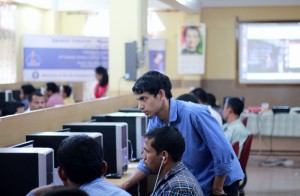 In a major venture to train 300 teachers from rural areas of Assam's Kamrup district the University teamed up with Rashtriya Madhyamik Siksha Abhiyan (RMSA) in conducting one-day training for five batches of teachers.
"I am particularly grateful to Assam Don Bosco University for extending its support in organizing the Information and Communications Technology (ICT) based training for the teachers of secondary schools of Assam," said R. C. Jain, Mission Director, RMSA, Assam.
The one-day training programme started on May 27 for the teachers of Kamrup (Rural) District that has about 300 schools.
Each batch has some 60 teachers who attend one day hands on computer based training, which ended on May 31. These teachers will in turn become trainers for the rest of the faculty in their schools.
During the one-day Master Trainer Programme, the participants were taught how to use the freely available eResource called the Spoken Tutorials developed at IIT Bombay.
The Spoken Tutorial project is the initiative of the "Talk to a Teacher" project of the National Mission on Education through Information and Communication Technology, launched January 26, 2010, by the federal Ministry of Human Resources Development.
A variety of Spoken Tutorials on various Free and Open Source Software (FOSS) in various Indian regional languages are available at their website http://www.spoken-tutorial.org.
The philosophy behind this project is that learning is more effective when animation and narration are presented simultaneously through a video.
The objective of Spoken Tutorial, says ADBU Pro Vice-Chancellor and FOSS promoter Fr. Joseph Nellanatt, "is to assist a lonely boy or girl student in a remote village in the middle of the night to learn a computer related topic by merely watching and listening to a video on the topic s/he chooses, without assistance."
The target group, Fr Nellanatt adds, "is the community at large, including school and college students, working and retired professionals, housewives, teachers, trainers, research scholars, software users and developers."
The students can also test their knowledge by appearing for a free online test in a centre that is approved by the Spoken Tutorial Team. They will receive a certificate for their performance from the project team at IIT Bombay.
The Master Trainer Program will be continued for the rest of the districts after the training for the present batch is completed.