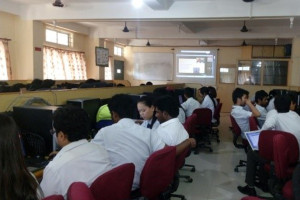 The Department of Computer Science & Engineering and IT conducted a hands-on online training on 'Digital Image Processing using MATLAB' on 7th and 8th of October, 2015. The training was given by two eminent resource persons, Dr. Ramesh Manza and Dr. Pravin Yannawar, from Dr. Babasaheb Ambedkar Marathwada University, Maharashtra, India.
In this training, emphasis was mainly given on hands-on practices using MATLAB for various digital image processing techniques. The experts also invited our students to visit their place and execute the final year projects. Similar sessions are being planned to be conducted in the near future.
The training was coordinated by Ms. Gypsy Nandi and Ms. Usha Mary Sharma under the guidance and support of Dr. Y. Jayanta Singh, HoD, Department of CSE & IT.
The two-day sessions were attended by final year students of MCA and BTech.
The Department of CSE & IT had also organized Invited Talks with an aim to create interest in the students to take up real live projects . On 27th August 2015 Dr. John Jose IIT Guwahati delivered a talk on  "On-chip interconnection networks: A computer architecture perspective", and on 7 October, 2015, Dr. Ranbir Singh delivered a talk on "Web Search Engine and Information retrieval"