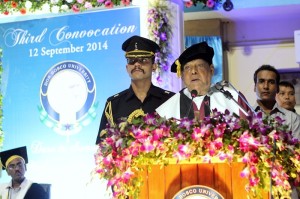 The Governor of Assam and Visitor to Assam Don Bosco University Shri Janaki Ballav Patnaik presided over, on 12 September, at the Third Annual Convocation along with the Chancellor, Vice-Chancellor, and a galaxy of dignitaries from civil, church and academic institutions in the city.
Four hundred students got bachelors and masters degrees.
Addressing the gathering of some 1,000 people, the Governor encouraged students "take one step at a time and if you commit a mistake, just learn from it and move on."
He told graduates, "believe that you can do anything you put your mind to. Nothing is impossible if you have the conviction in your dream to fulfill your goals and overcome the obstacles that may come your way."
The ADBU Chancellor and the Salesian Provincial of Guwahati Fr V.M. Thomas appealed to graduates saying, "use your status and influence to raise your voice on behalf of those who have no voice… then it will not only be your proud families who celebrate your existence, but thousands of people whom you have helped change their realities."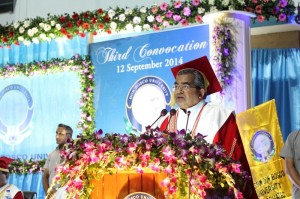 The Chancellor reminded graduates the words of Don Bosco whose birth bi-centenary will be celebrated in 2015 (16 August).
Don Bosco said, "We do not need magic to change the world, we carry all the power we need inside ourselves already: we have the power to imagine and do better."
Presenting a report of the academic year Vice Chancellor Dr Stephen Mavely announced the new Masters degree courses in Mass Communication, Physics, and Electrical & Electronics Engineering started this semester.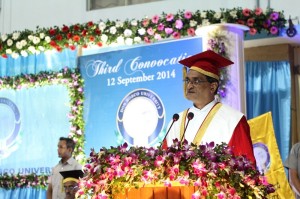 He also congratulated the first batch of MA students in Human Rights (Child Rights & Development), as well as the first batch of DBU Global, on-line program in distance education.
Degrees were conferred on 400 students of which 165 students received bachelors degree in Engineering & Technology, 34 M.Tech, 50 MSW, 30 MCA, 36 MBA degrees, 4 MA in Psychological Counseling, 6 MA in Human Rights and 2 Post Graduate Diploma in Human Rights.
In the DBU Global on-line courses, 39 Post Graduate degrees of MBA, 6 MSc-IT and 28 MSW were conferred.
Breaking away from the traditional university certification, ADBU this year introduced an additional one-page certificate giving a detailed and comprehensive picture of the candidate's performance, both academic as well as the skills that the student acquired and demonstrated during his/her stay at the University.
Gold Medals under various categories were awarded to 13 outstanding graduates both in the academic and co-curricular activities. The Chancellors gold medal for standing first across the degrees and the Vice Chancellors medal for outstanding contribution to campus life (both for Under graduates & Post graduates) were awarded to Gitimoni Talukdar, Achinta Sharma and Lijo George respectively.
Every graduating participant at the convocation was honoured with a specially prepared scarf made to mark the occasion.
With the introduction of research leading to the PhD degree in 2011, ADBU now has 166 research scholars in 17 disciplines under the guidance of 44 research guides. While 48.1 per cent of the faculty hold doctoral degrees, 29.2% are actively pursuing doctoral research in various Indian and foreign universities with an output of 1.6 publications per faculty member.
Three academic peer reviewed international journals published in the last academic year include: Northeast Indian Cultures, Technology, and Development Practice.
The Vice Chancellor announced the University's permanent campus at Tapesia with the first cluster of buildings and allied facilities including an academic complex to house the four Social Science Departments together with 2 student hostels, a food court and 55 staff quarters would be ready by June 2015.
The MoUs signed with the National Boards for Rubber, Tea, Cashew, Coconut and Spices will ensure demonstration farms and seed production centres as well as research avenues for pest resistance, hybridization, and mass multiplication through tissue-culture, and a training platform for social outreach programmes in 42 villages.
The VC added, "The detailed Master Plan has ample provisions also for recreational and sports facilities, parks and quiet corners, cycle paths and jogging trails, a bio-diversity park, an amphitheatre, a convention centre, a school and a health centre, and a lake within the campus for the harvesting of rainwater. A mini golf course, a wellness centre, and a mall, are other projects on the anvil at the 500 acre Tapesia tea garden campus."
Ms. Pushpanjalee Konwar (M.Tech) and Mr. Achinta Sharma (B.Tech) recounted their valuable learning experience at the University in the valedictory address.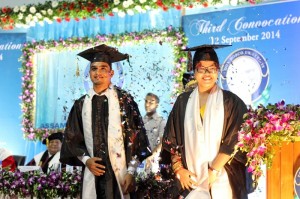 To see more pictures, kindly visit our facebook page