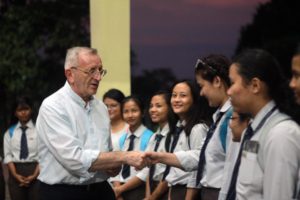 On the evening of 15th October 2019, Rev Fr Francesco Cereda, the Vicar General to Rector Major paid a visit to Tapesia Campus of the University. Fr. Cereda had come to Guwahati to attend the Diamond Jubilee celebration of the Salesian Province of Guwahati to be held on 17th October 2019 at Salesians' Provincial House, Guwahati.
While touring the campus and seeing the developments, he interacted with a number of students at various places and was very happy to see the dream of Salesians in establishing a University in this part of the world being realized. He reminisced that a few years back during his first visit he had paid a visit to this campus when there was not even a road.
After touring the campus, a prayer service and interactive session were held at the Salesian's chapel in the residence with various religious communities in the campus – wardens, nurses, students etc. He appreciated the fact that the Salesian community has been collaborating with other religious communities in realizing the dream of Don Bosco in the campus as apparent from the presence of various religious orders.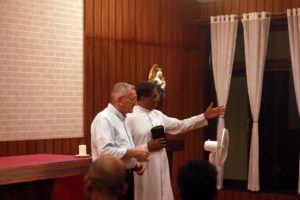 The Vicar General is the first collaborator of the Rector Major (who is the head of Salesians) in the government of the Society and has ordinary Vicarious power. He takes the Rector Major's place whenever he is absent or impeded. To him is entrusted particularly the care of religious life and discipline.
The Vicar General was accompanied by his Secretary Fr Saimy Ezhanikatt and the Salesian Provincial of Guwahati, Fr. Januarius Sangma.