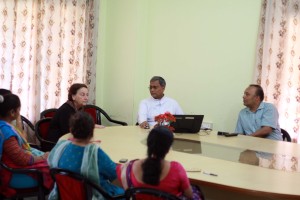 Two eminent Professors of Stanford University, USA visited the University's Azara Campus and Tapesia Campus, and interacted with faculty members and research students.
On 29th February, Prof. Aynur Unal, who is a high profile semiconductor manufacturing supply chains professional of Silicon Valley visited the University. She had worked at Siemens, LSI Logic and Flextronics as an executive for global manufacturing information systems and most recently with their spin off start-ups Triada, e2open, Saqqara sytems, Datareliability, Amteus and finally Imjack.
She has been a principal consultant with Dubai Internet City, www.dubaiinternetcity.com, and Konya Teknokent, www.konyateknokent.com.tr,ongst others. Most recently she is bringing in the social responsibility dimension into her incubation and innovation activities by getting involved in social entrepreneurial projects on street children and ageing care. She is also the Strategic Adviser for Institutional Development to IIT Guwahati.
During her interaction with Assam Don Bosco University officials, she laid stress on open innovation. She lauded the efforts of the Nanotechnology group of the University under the leadership of Prof. Sunandan Baruah in developing customized instruments for research and also coming up with innovative products.
5th March saw another visitor from Stanford University, Professor Arogyaswami Paulraj, who is an Emeritus Professor at Stanford. Prof. Paulraj has over 30 recognitions which include the 2014 Marconi Prize and the 2011 IEEE Alexander Graham Bell Medal. He is a member of seven national academies including the US National Academy of Engineering, the Royal Swedish Academy of Engineering Sciences and The World Academy of Sciences and also is a fellow of IEEE and AAAS.
He has received a number of recognitions in India including the Padma Bhushan, the nation's third highest civilian honour. He is known as the Father of MIMO-OFDMA used in 4G technology. Apart from meeting the Vice Chancellor and other officials of the University, he also interacted with the faculty members and Masters and Doctoral students of the School of Technology.
In his interaction with the students, he mentioned that the key areas that will make an impact in the near future include Biotechnology, Information Technology, Nanotechnology and Alternate Energy. He also visited the Nanotechnology labs and interacted with the members of the Nano group of the University. He said that he is "very impressed with the work done by the group" and assured his guidance and support.