The Annual Appreciation Day brought together over 200 faculty and staff along with their family members for a daylong program at its permanent campus at Tapesia Garden about one –hour drive from Azara campus.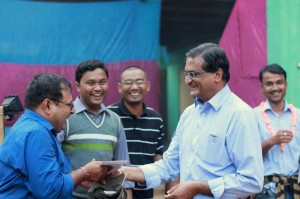 They arrived in three buses and scores of private cars to the 500-acre tea garden retreat to start off the day with a short thanksgiving service followed by breakfast in a tastefully decorated tea collection point.
For the games session the entire group went on a trek to a flat area in the garden some 600 meters away walking along a babbling brook flanked by tea covered hills for a free for all tug-o-war where winners got a jar of toffee.
Several party games followed dragging in young and old. Besides ball games and music, there was a hunt for smiley's competition where four teams of 20 members each scampered up two hills covered with tea bushes to recover hidden yellow rubber balls. Winners got individual prizes, while runners up got group prizes.
The faculty and staff surprised the Vice Chancellor Dr Stephen Mavely celebrating his belated birthday, 20 November, as he was away in visiting Europe and America. Besides a huge cake, they also gifted him with books and other memorabilia.
After a sumptuous lunch at the breakfast spot, the group went to the University Camp Office for "Jashan-e-Shaam Don Bosco ke naam" a unique program first of its kind at appreciation day. It included songs and carols to hail the Christmas season in the backdrop of a winter's setting sun.
The HR Director Ms Juhi Baruah and her team of young faculty and staff members executed the day's program.