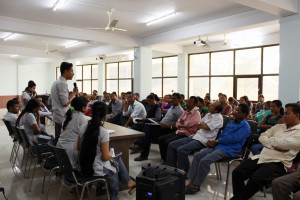 The University, in its effort to carry forward its vision of being a catalytic agent to bring about progress and development to its neighbouring villages, launched its 'Centre for Developmental Studies and Initiatives' at an interactive meeting held with the leaders of local communities on 23 February, 2017 at Crystal Hall, Tapesia Campus.
Addressing the gathering of 78 people, including Panchayat Presidents, Village Headmen, School Teachers, Anganwadi Workers, Self Help Group members, students and staff volunteers, the Vice Chancellor Fr. (Dr) Stephen Mavely explained why the University takes such a step, "Opening this Centre is to formalize what we have been doing in bits and pieces during the last five years or so. This is a seminal gathering to bring about a participatory approach in our interactions and interventions with our neighbours. The university alone cannot work for the development of the communities but we would like to work together with you to see developments in the community in education, health and standard of living. The Centre for Developmental Studies and Initiatives will become a hub for study, research and developmental activities as a regular feature of our university. My hope is that every graduate in our university will spend some quality time in volunteering for developmental work in the villages of North-East India as a compulsory part of their studies with us. This Centre will start organizing that as we go along."
Mr. Surjya Das, President, Digaru Goan Panchayat expressed his gratitude for the existence of the university and said that he is looking forward to working together with the University's various developmental initiatives.
Discussions were held on issues and challenges being faced by these communities in water supply, electricity, road, alcohol abuse, lack of infrastructure for social institutions, and disintegration of Government Assamese Medium Schools.
Earlier in 2015 and 2016, the University in collaboration with University College Dublin, Ireland had organized a one month Community Development Programme in partnership with local communities in these communities. Some of the project activities included repair of a well, capacity building workshops for livelihood development, English classes, and refurbishment of Anganwadis.