Holding a yoga fest in a university campus in northeast India is a rare event! The University took a bold step to hold a two day Yoga Fest in anticipation of the International Yoga Day scheduled for 21st June.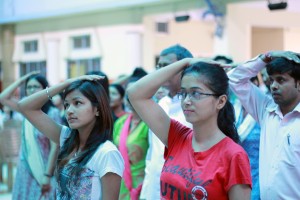 With the help of two Yoga experts Mr Deba Kumar Baruah and Mrs. Bibha Baruah, from the Art of Living foundation the University held yoga fest in its Azara campus 28 and 29 April. "I have requested our faculty and students to be present in this 'deliberation cum demonstration' programme on both the days to know the strengths and health benefits of Yoga," says ADBU Registrar Dr Basil Koikara standing at the sprawling atrium ready with carpets for the first ever yoga event of the sort to be held on campus.
Taking active part in the yoga sessions was the School of Technology Director Prof Manoranjan Kalita who stood by the side of ADBU Pro Vice-Chancellor Fr Joseph Nellanatt along with faculty members to perform the various asanas. In the ice-breaking session on the first day, Mr Deba Kumar Baruah stated that yoga is not doing physical exercises, nor is it a religion, " but union of the body, mind and soul with the help concentration and breath control."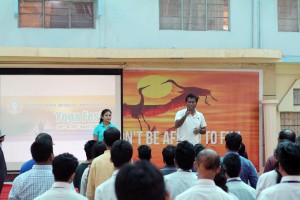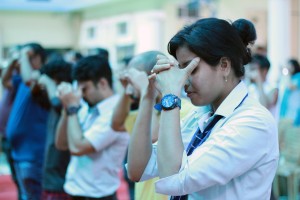 "Yoga instills self acceptance and confidence," says Mr Baruah adding that "yoga is more about self-acceptance than self-improvement. Meditation, a part of yoga, teaches one to be aware of both their strengths and limitations."

Mr Baruah reveals a secret to Engineering students to study better saying, "Yoga will teach you how to focus on yourself by helping you to listen with the heart to what you hear in the class with your ears."
He further explains the practicality of yoga saying, "One can practice yoga at home while waiting for the water to boil, or in office between two stressful meetings with no equipment or expansive spaces."
"Unlike gym exercises, yoga builds heat and works your muscles," says Mr Baruah assuring the audience that "yoga can't cause injury to your body, like lifting weights. While yoga eases your aches and pains, gym exercises could increases them. Yoga stretches muscles and opens the energy channels of the body, automatically increasing the flexibility of the body."
After going through the Surya Namaskara a common series of asanas (postures) A B.Tech final year student Mr Dipankar testifies that "I do not know where my irritant back pain has gone."
Mr Baruah says, "Yoga emphasizes on real rhythmic breathing, and not the shallow breathing that we all end up doing." He insists that "By focusing on the right kind of breathing, yoga can help one think clearly and keep fatigue at bay."
"A yoga session is the best remedy to fight stress," says Mr Baruah. "It helps you to clear the mind off the stresses of the day, and practicing yoga regularly can make you equipped to effectively handle stressful situations, and emerge calm from each of them."
Assuring that everyone can practice yoga including the elderly, Mr Baruah encouraged the shy persons and on-lookers to do the breathing exercises from where they sat and stood.
Maharishi Patanjali is the 'father of Yoga' who compiled 195 Yoga Sutras that became the foundation of Yoga philosophy. The commentary on these sutras is called Bhasya. The core essence of Patanjali is the eightfold path of Yoga (Ashtanga Yoga) that focuses upon healthy living through Yoga.