Advocate in Patna High Court and legal consultant at the Jesuit run Indian Social Institute in New Delhi, Sister (Lawyer) Tresa Paul HC, LLM, gave a talk to the students of School of Social Sciences, 25th October. Some 120 post graduate students and faculty from departments of Social Work, Psychological Counseling, and Educational Leadership took part.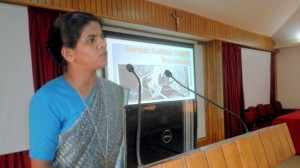 "Gender justice means, we eradicate certain socially construed differences between women and men," said Sr Tresa challenging the audience to do a Google search on the phrase "women should not."
She added, "gender justice means, we create greater equality between women and men."
Citing the example of 1997 Supreme Court Guidelines on "sexual harassment in work place for prevention and protection of women," she said law should change according to the need of the society. She also mentioned the recent guidelines on "rape."
While praising the Indian legal system which promotes in general the issues of women, she cautioned audience on its in built "obstructing factors."
During her well researched presentation she gave instances when 'religions contributed in perpetuating gender injustice."
She praised the positive shift in the perception of women's rights from right to vote in 1917 to the rights women enjoy today like right to property, maintenance and inheritance."
She did not hesitate to tear at the hypocrisy of the parliamentarians on the pending "Women's Reservation Bill" which proposes to amend the Constitution of India to reserve 33 per cent of all seats in the Lower house of Parliament of India, the Lok Sabha, and in all state legislative assemblies for women. The seats to be reserved in rotation will be determined by draw of lots in such a way that a seat shall be reserved only once in three consecutive general elections. The Rajya Sabha passed the bill on 9 Mar 2010. As today, the Lok Sabha has not yet voted on the bill.
In conclusion Sr Tresa insisted on "equality before law, equal opportunity and equal remuneration for men and women."