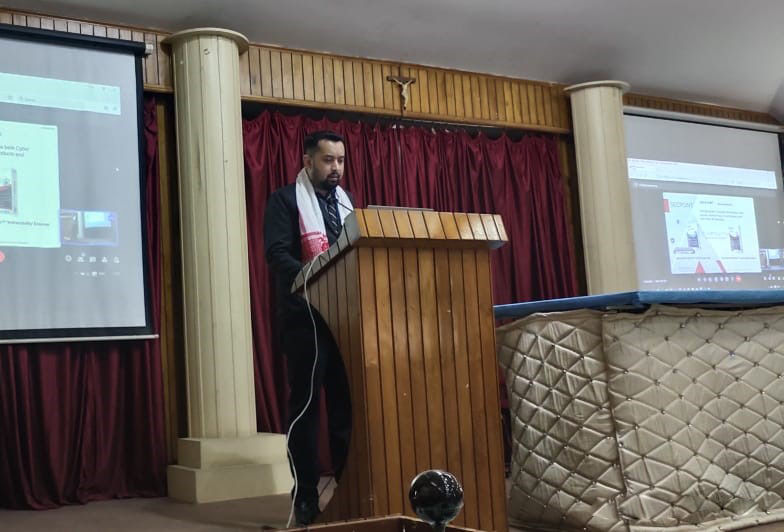 The Department of Computer Applications conducted a Symposium on Recent Trends in Cyber Security on 6th February 2023.
The objective of the symposium was to highlight the importance of Cyber Security in the Digital World and in the day to day lives of the public and necessary technical measures needed to be taken while developing as well as using the software and web applications.
The session started with a welcome address by Dr. Uzzal Sharma, Head, Department of Computer Applications who said that it is the responsibility of young people to spread awareness about the importance of cyber security in the society. He proposed to discuss and find different possibilities and techniques of Cyber security from the perspective of users as well as programmers.
Dr. Sarat Kumar Chettry, Assistant Professor, ADBU delivered a talk on Data Privacy and Security in the Digital Age. He discussed the importance of data privacy, protection laws in India, and different industry perspectives and real case studies on data breaches and also briefed the participants on things that one can do for improving the data security.
A special guest Mr. Ivan Das, consultant, IT Security and Training Industry, who has over 12 years of experience in the cyber Security industries and multinational companies delivered a talk on the importance of industry perspective cyber security as well as key aspects of cyber threats. He carried out a hands-on demonstration on the technique of Phising, SQL injection, session hijack, data vulnerability etc.
The open discussion was coordinated by Dr. Gypsi Nandi and Dr. Abhijit Bora. The symposium was attended by the faculty members, students of School of Technology ADBU as well as different online users over Google meet.