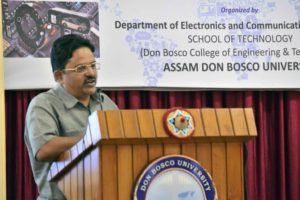 On 4th November, 2017, the Department of Electronics and Communication organized a one day Symposium on "Electronics-The Backbone of Internet of Things (IOT)".
The main objective of the symposium was to provide an understanding of the role of Electronics in IOT implementation and there by providing the young engineering students and researchers a platform to discuss about the various issues, challenges and other factors related to IOT.
Eminent academicians Dr. Ferdous Ahmed Barbhuiya, Head, Dept. of CSE, IIIT, Guwahati and Dr. Nayan Moni Kakoty, Associate Professor, Dept. of ECE, Tezpur University delivered invited talks on this topic. Dr. Ahmed Barbhuiya spoke about the various issues and challenges related to IOT while Dr. Kakoty on the other hand spoke about the various fields such as agriculture, healthcare, smart farming, etc. where IOT could create a revolution and he termed IOT as the 'the Instrument of Fourth Generation'.
After the invited talk, there was a brainstorming panel discussion on the topic which was facilitated by Prof. Sunandan Baruah, Director of Centre of Excellence in Nano Technology & Proffesor, Dept. of ECE, Don Bosco University. The other panelists were Dr. Nayan Moni Kakoty, Associate Professor, Dept. of ECE, Tezpur University; Dr. Abhijit Sarma, Assoc. Professor and Head, Dept. of CSE, Gauhati University & Mr. Arup Baruah, Sr. Asst. Prof., Dept. of CSE, ADBU.
The panelists also answered queries by the participants.
More than 80 students and research scholars from the University as well as from Gauhati University and Tezpur University attended the symposium.