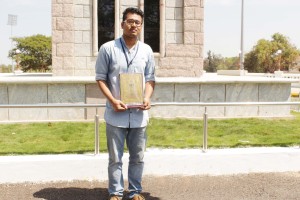 Laishram Swital Singha, second semester student of the Department of Mass Communication won second prize at the Photography Competition held during the National Youth Festival (Yuva Shatha Sambrama – 2016) at the University of Mysore, 15-19 February, 2016.
The competition was an 'on the spot photography' where participants had to shoot on two themes – 'Miracle of Light' and 'Nature's Mystery' for two and half hours with no digital manipulation allowed.
The participants in the competition were the State Level Youth Festival Photography Competition winners from various states in India.
Swital had also secured the same prize earlier at the East Zone Inter University Youth Festival called "Brahmaputra Mahotsava 2016" held at Tezpur University, 3-6 January 2016, thus securing a ticket to the National Level Competition.
National Inter-University Youth Festival was started in 1954 under the aegis of the then Prime Minister of India Pandit Jawaharlal Nehru.