GUWAHATI — Swami Agnivesh made
a surprise and providential visit to Assam Don Bosco University (ADBU) campus at Azara on arrival at Guwahati, this evening Friday (8 Nov). He spent about one hour conversing with the Vice Chancellor Dr Stephen Mavely in his chamber along with Campus Minister Dr Francis Fernandez who accompanied from the airport.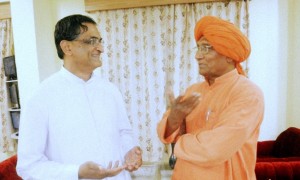 Swami Agnivesh hailing from New Delhi will address some 450 major superiors from all over India gathered for the golden jubilee celebration of the Conference of Religious India (CRI) at Don Bosco School Pan Bazar Guwahati, tomorrow 9th November 2013. The topic of his presentation scheduled for 9 am in the school auditorium is entitled: "Taking a Stand – Making a Difference." Swami Agnivesh (born 21 September 1939) was a politician and a former Member of Legislative Assembly of Haryana, an Arya Samaj scholar, and a social activist. He is best known for his work against bonded labour through the Bonded Labour Liberation Front, which he founded in 1981. Swami Agnivesh also founded and became president of the World Council of Arya Samaj, which he describes as an associate of the original Arya Samaj and served as the chairperson of the United Nations Voluntary Trust Fund on Contemporary Forms of Slavery from 1994 to 2004. Born as Shyam Vepa Rao in Sakti, Chhattisgarh, Agnivesh received his degrees in Law and Economics in Calcutta; thereafter he worked as a lecturer of Business Management at St. Xaviers College, Calcutta, from 1963 to 1968. In 1970, Swami Agnivesh founded Arya Sabha, a political party based on Arya Samaj principles as he himself formulated in his 1974 book, Vaidik Samajvad. Swami Agnivesh became a member of the Legislative Assembly of Haryana in 1977, and served as a cabinet Minister for Education in 1979 .[4] In 1981, while still a minister, he founded the Bonded Labour Liberation Front, which continues to raise issues bonded labour in India, especially in the quarries in and around Delhi; he remains the chairperson of the organization. After leaving the Ministry, he was arrested twice, spending a total of 14 months in jail on charges of subversion and murder, of which he was later acquitted. In March 2011, Maoist forces killed three members of the Chhattisgarh security and police forces; subsequently, the security forces allegedly attacked and burned an alleged Maoist village. When Swami Agnivesh and his organization attempted to bring relief aid to the affected village families, a large demonstration attacked their cars with stones, claiming that the Maoists had killed many security forces over the last year. Swami Agnivesh took part in the anti-corruption protests in India in August 2011. Later, he broke away from the main group claiming that other protesters humiliated and conspired against him.