Three departments of the School of Technology – Department of Computer Science & Engineering and Information Technology, Electronics and Communications Engineering, and Social Work are jointly organizing a 5-day free training programme on DTP and designing of solar chargeable power LED lamps, 7-11 December.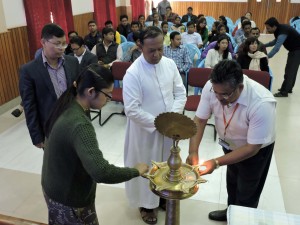 The programme being conducted under the aegis of Swabalamban, a social commitment programme aimed at training and enriching the skills of the neighbouring youths and to promote self-employment, has 18 participants.
In this edition of Swabalamban, the focus has been on imparting skills on basic computer operations, desktop publishing, internet handling, PC maintenance, and design of solar chargeable power LED lamps. On completion of the programme the participants will be given certificates as well as tool-kits required for designing the system and the solar panel powered LED lamps to be made by themselves during the course.
The 5-day training programme is sponsored by Assam Railways Employees Co-operative Association Ltd. and Globinno Engineering Solutions and supported by the staff and faculty of the involved departments.
The inauguration ceremony held on 7th December in the presence of the dignitaries of the University was attended via Skype by Mr. Nandan Baruah, Director of IT Globinno Engineering Solutions, New York, USA. Mr. Baruah, in his speech, mentioned that without practicing with ones own hands one cannot become a specialist. He urged the participants to learn as much as possible to contribute to the society. He also mentioned that his company is planning to start a number of projects in Assam and North Eastern region for which technically skilled people will be required.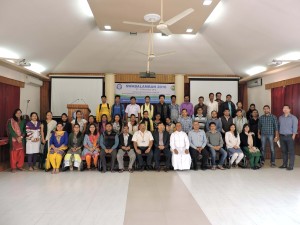 The programme co-ordinators Mr. Samar Jyoti Saikia, Ms. Sonia Sarmah, and Ms. Manasi Hazarika, highlighted the use of LED lamps and desktop publishing in today's era and how the participants can make use of the knowledge gained from the training programme.
Swabalamban, started 3 years ago in the University has been supported by Sailabala Biswas Education Foundation, Kolkata, of which Prof. Sunandan Baruah, the HoD of the Department of Electronics and Communication is the President.