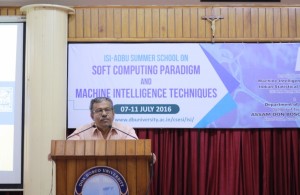 A Summer School on Soft Computing Paradigm and Machine Intelligence Techniques was held at the University in collaboration with Indian Statistical Institute (ISI), Kolkata from 7-10 July, 2016.
The prime objective of this summer school was to encourage the researchers and faculty members of various institutions of North-East India to do research oriented work in the field of machine learning.
Addressing the dignitaries and 39 participants from 17 institutions, the Vice Chancellor, Fr. (Dr) Stephen Mavely congratulated the Department of Computer Science and Engineering & IT, saying, "Summer vacation in the University has become Summer Workshops and the Department of CSE & IT excels in organizing these workshops of importance. I am glad that the ISI is associating with us and taking initiatives in organizing this summer school".
Prof. Sankar K Pal, Padma Shri Awardee in Science and Engineering and Former Director of ISI urged the participants 'to continue to research in the subject areas covered during the Summer School' and also raised his concerns over publication and plagiarism, saying, "Try to have as many research publications in good and well known journals and avoid plagiarism'.
The entire Summer School comprised of highly intellectual and influential talks by faculty members of Indian Statistical Institute, Machine Intelligence Unit, Kolkata.
The resource persons and topics covered are as follow:
'Overview on Fuzzy Logic and its contribution in various fields' by Prof. Sankar K Pal,
'Introduction to Image Analysis' by Prof. Ashish Ghosh
'Principles of Pattern Recognition and Genetic Algorithm by Prof. C A Murthy
Artificial Neural Networks by Prof. Rajat K. De
Rough Sets and Rough-Fuzzy Clustering Algorithms by Dr. Pradipta Maji
Learning in Database Integration: Application of Bioinformatics by Dr. Shubra Sankar Ray
Explaining Visual Perception in the Light of Excitatory- Inhibitory Convolutional Neural Networks by Dr. Kuntal Ghosh
Climate-Informatics: A machine Learning Approach to study the Earth's Climate by Sourav Das and,
Cytoscape and Gene Ontology for Network Visualization and Gene Annotation by Dr. Losiana Nayak.
The entire event proved to be very educational and a great exposure to the participants to carry out researches in the field of machine learning. The workshop was coordinated by Mr Vijay Prasad and Mr Alok Choudhury, Department of CSE&IT.