Azara, 29 October 2013: A team of MSW (Social Work) students of Assam Don Bosco University organized street plays to mark the celebration of Disaster Risk Reduction (DRR) Day in two central locations in Guwahati city, one at the major traffic hub and the other
at the central railway station, 29 October. Huge crowds gathered to witness the presentations.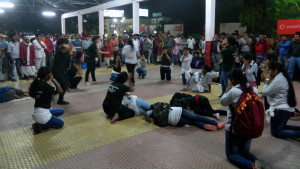 "The programme aimed at creating awareness among the people to reduce risk of disasters and how agencies can ensure inclusion of persons with disability," said faculty member Jacob Islary accompanying students explaining this year's theme 'Living with Disability and Disaster.'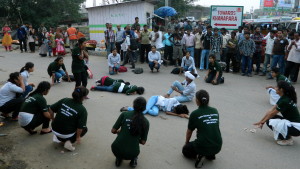 "The message that we want to send among the people on this day is to have a heart for the disabled people in times of disaster' said Ms. Hadwrshri Basumatary, one of the students who was actively involved in the play.
Ms. Netrashika Dutta another student and street play artist urged the people "to feel for the people with disability, and know that often they have more
talents and skills that we normal people do not have."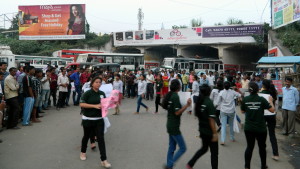 The students performed a play with a well knit story line of people with disability being often left out in times of disasters-like communal riots, blasts and floods; while emphasizing that disabled people are equally able to take part in the process of disaster risk reduction processes.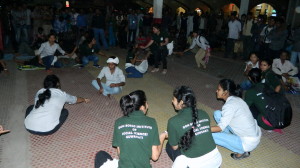 The street plays while provided entertainment, were able to induce strong message among the people on disaster and disability.
Mr. Kulen Das from Morigaon watching the performance in Jalukbari confessed, "we lost our mentally ill neighbour in the recent flood waters since he could not understand the situation, and no one was there to assist him as all people had already left."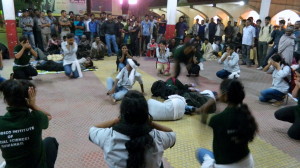 "The theme of the play is very relevant as we see people with disability often left out in disaster situations, and it makes me feel strongly for them now," said Mr. Ramesh Pandey a traveler waiting for Lucknow train in the railway station and watching the performance.
The programme was supported by District Disaster Management Authority (DDMA) Kamrup Metro, Assam State Disaster Management Authority (ASDMA) and Inter Agency Group (IAG), Assam.