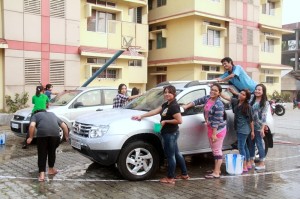 A group of the university students got together to raise funds for neighbourhood outreach programme. Spread over a week, students sold ethnic food preparations and roses, organized karaoke and a number of chance games, and also washed cars and motor bikes of both faculty and students.
It was the first ever Community Self-Help Week at Assam Don Bosco University (ADBU) in support of the Social commitment project Swastyayan, free evening tuition classes held for high school students.
Flagging off the weeklong event on 27th January, Vice-Chancellor Fr. (Dr) Stephen Mavely made and sold the first batch of pakora.
Dr Mavely said, "This fund raising drive organised to support the educational aspirations of the poor and marginalised children of Azara, Garal and Dharapur gaon panchayats is unique and significant in the context of development in developing countries like India."
The Director, School of Humanities and Social Sciences, Dr Riju Sharma, reiterated, "Making our social commitment programme self- reliant and sustainable is the primary aim of this venture. I am humbled by and very appreciative of the commitment and involvement of all the faculty, students and staff who are sacrificing their time and energy in this noble venture. I wish them all the best."
To give a befitting conclusion to the week-long programme, a grand Food Festival and cultural evening was held on 31st January to mark the feast of Don Bosco and launch the bi-centenary of his birth to be celebrated on 16 August 2015.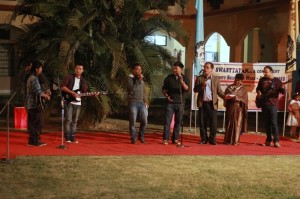 A final year MSW student from the neighbouring state Meghalaya, Hazel Wahlang confessed, "It is indeed an enriching experience to reach out to these students, especially the girls, who otherwise would not get the chance to make use of the study facilities we offer for study and personal growth."
Swastyayan, meaning a fight to eradicate the ills of our society is the University's social commitment project started two years ago in 2013 to address the need felt by students and faculty to extend a helping hand to neighbourhood community.
The project initially focused on conducting tutorial classes for the children on the basis of their scholastic needs. In these classes, different subjects, such as, Mathematics, General Sciences, Social Sciences and English are being taught, besides providing inputs on soft skills, career guidance, and personality development.
The School of Technology also came up with two projects to help students and unemployed youth with Computer Education Programme and other short term skill training in house wiring, electrical motor winding and mobile repairing.
"In the past two remarkable years, the project supported over 200 students from the neighbouring villages. It has been successfully run with the help of over hundred students and faculty volunteers of the university," said the Pro-Vice-Chancellor Fr Joseph Nellanatt.